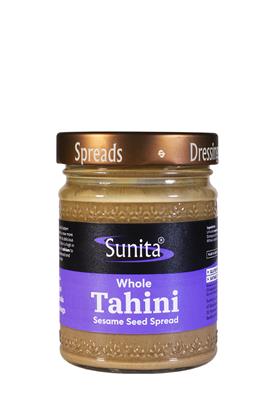 A staple ingredient in the Eastern Mediterranean, tahini is now more widely appreciated for its delicious taste and versatility. Sunita Whole Tahini is made from unhulled sesame seeds which are carefully roasted and stoneground. Nothing else is added.
Using the whole seed gives a richer slightly bitter taste with a higher content of nutrients.
Serving Suggestions
A key ingredient for hummus. Ideal for making tasty dips, dressings and sauces. A great alternative to peanut butter.
Product Information
Ingredients
Stoneground unhulled sesame seeds.
Allergen Advice
Contains sesame seeds.
Produce of
Greece
Sizes Available
280g
Nutritional Information
Average Values per 100g
Energy
2652kj/642kcal
Fat
56.0g
of which: Saturates
9.5g
Carbohydrates
3.4g
of which: sugars
1.0g
Fibre
10.0g
Protein
26.0g
Calcium
790mg (99% RI)
Salt
trace
RI = Reference Intake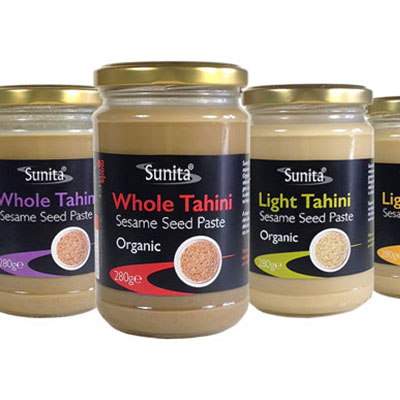 Sunita Tahini & Spreads
Our delicious range of Tahini and Spreads made solely from high quality roasted sesame seeds sourced from local farmers in Ethiopia, East Africa.
Choose from organic light tahini, organic whole tahini, light tahini, whole tahini, and sesame seed spread with cocoa.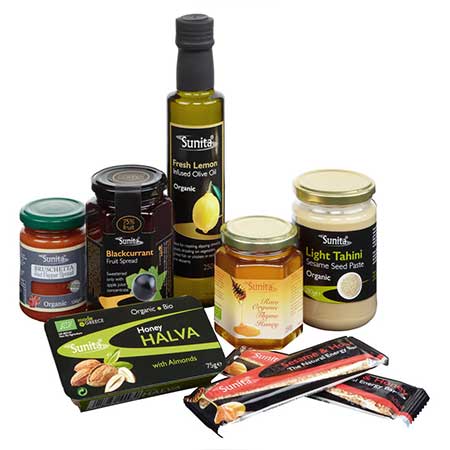 Sunita Fine Foods
In 1977 George Skoulikas began importing olives and olive oil from Greece under the Sunita and Hellenic Sun brands. Since then, we have continued to develop a specialist range of deliciously natural and organic Mediterranean foods.
We pride ourselves on authenticity, quality and great taste.